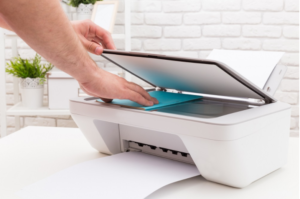 Small businesses waste 60 billion dollars a year on energy costs according to Energy Star. So it makes sense that "going green" is a growing trend among businesses.
Countless companies can't afford the soaring electricity costs. And they end up closing for that very reason.
You can reduce your energy costs by acquiring energy efficient office equipment. Such as the compact multi-function (MVP) printers.
Unplugging anything, not in use, can also keep your overhead costs down.
Keep reading to learn how energy efficient printers can help your bottom line.
1. Decreases Your Overhead Costs
Printers are far from dead and will continue to be an office necessity for as long as offices exist.
People relish tangible items, and they trust them. In this digital era, you can read any book you desire online. Yet libraries continue to be popular.
You can't cut out costs of printers completely, but you can save your business money in overhead costs by switching to one of the many energy efficient printers.
Multi-function Energy Star printers come with countless features, saving you from buying several machines for your business.
Most Multi-function Printers Come With:
Printing
Copying
Mobile Printing
Scanning
Faxing
2. Energy Star Printers Come with Unique Features to Save You Money
Printers crafted with the Energy Star label have added features to help your bottom line. Which, of course, preserves energy. When you see that label, you know that you'll be saving energy regardless.
Extra Features to Conserve Energy And Save Money:
Sleep and wake modes
Solid Ink instead of toner
Double-Sided feature
Carbon footprint calculator
Sleep mode is a genius innovation for when you're not ready to turn the printer off and you don't want to drain energy between usages.
Double-sided printing is another great way to lower costs. The solid ink is a game-changer when it comes to energy consumption savings. Plus it doesn't drip or smear.
You have a printer, but that doesn't mean you need to be printing non-stop. Energy efficient printers come with copious features, like scanning. Often times you can send your documents without printing at all.
3. Reduces Office Clutter
As we mentioned, these energy efficient printers come with various functions and features. Many offices have a fax machine, a photocopier, a printer, and a scanner, but all those machines quickly clutter up the office.
Wasted space in an office setting sets you up for higher energy costs. Energy Star compact printers, however, allow you to save massive amounts of space and money.
Without all those machines, you could downsize to a smaller location. Thus conserving more energy and boosting your bottom line. Or, you could furnish your office in a more spacious fashion.
Final Thoughts on Energy Efficient Printers
Cutting costs in your office may seem like no easy feat. But with small changes, you can make your office a greener atmosphere while enhancing your bottom line.
By reducing your energy, you also reduce the carbon footprint of your business. Another added bonus to being apart of the "green" business trend.
If you have questions about our printers, please contact us!