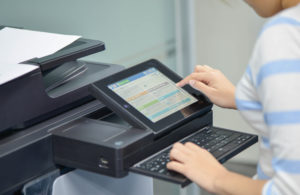 There is an incredible amount of printers on the market. And selecting the best one for your business can seem like an overwhelming task.
You need to consider the needs of your business. You don't want to purchase a printer with features you don't need, and you also shouldn't buy one that will underperform. And of course, you need to consider your budget and make the most cost-effective choice.
To make your decision-making process easier, we've compiled a list of top inkjet and laser commercial printers.
Read on for the details and pros and cons of various devices.
1. Samsung Xpress M2835DW
This is an efficient mono machine that offers high-quality print jobs.
It's relatively small in size, has very user-friendly buttons, and it offers an impressive list of features.
It connects to a wired system as well as Wi-Fi. And as a huge bonus, it can be operated from your smartphone. Users report that it's a quiet machine as well.
One of its best features is an eco mode. In eco mode, you can adjust the amount of ink and power used for print jobs to save energy.
2. Brother HL-L8360CDW
For commercial printers, this machine can handle large amounts of jobs both in black and white and color.
It's known for high-quality printing as well as being very fast. And it's not likely to jam up or stop when receiving a high volume of print requests.
Be aware that it's slightly larger in size and it does not feature a scanner.
3. HP PageWide Pro 477dw
This inkjet printer is known as a "workhorse."
In addition to color printing, this machine can copy, scan, and fax. And it can connect via Wi-Fi or ethernet.
This device is particularly regarded for its impressive functionality, high efficiency, and great paper handling. There's a 50-sheet auto paper feeder that makes the paper handling particularly smooth.
Additionally, it can perform multiple functions at once, allowing you to print and copy simultaneously.
The HP PageWide Pro 477dw is a true time saver and great for small businesses that want a machine that can multitask.
4. Brother MFC-L5900DW
Among many commercial printers, the Brother MFC-L5900DW is Business Insider's top office printer selection.
It's regarded as a terrific mono printer as it can churn out 41.2 pages per minute and with exceptionally high quality.
Featuring a large 3.7-inch LCD touchscreen, it prints faxes, scans, and copies.
One of the downsides reported is that when needing to print a black and white image from its color original, the quality is not so great. But overall, it has a great price point for its capabilities – you'd be getting a bang for your buck.
5. Dell C1760NW
This is an efficient color laser printer.
It's small and won't take up that much space in your office, but it does pack a punch in terms of what it can produce.
WIth the C1760NW, you can connect to Ethernet, Wi-Fi, and USB 2.0 port. However, USB host connection is not available with this device.
It's ideal for small offices and can print relatively quickly (15ppm for both mono and color).
Although it is a color printer, it excels at everyday mono printing with the occasional need for color.
Commercial Printers and Your Business Needs
As this is a small list of recommendations, continue to research and take a look at our wide selection of high-quality printers. Ask around, read reviews, compare and contrast, and you'll surely land on a solid printer.
With the right tech devices, the day to day efforts of your business can run smoothly and satisfactorily.
And feel free to contact us! We'd love to walk you through the process of choosing the best among commercial printers for your business.
Here's to smooth and effortless printing! May you find the best one for you and your team.